GarraSeal 90 Asbestos Gasket Sheet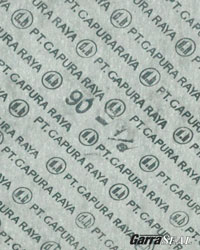 Recommended for steam, water, gas, salt solutions, some oils and use for pipe flanges, boiler manholes, steam engines, compressors, internal combustion engines, and pumps
GarraSeal 70 Homogenous Pure Graphite Sheet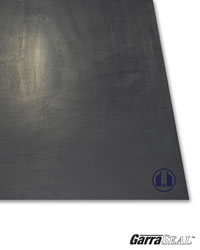 A superior replacement for asbestos gaskets. It is highly chemical resistant and thermally stable.
Forces Acting on a Gasketed Joint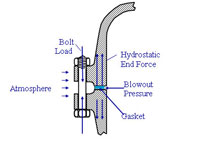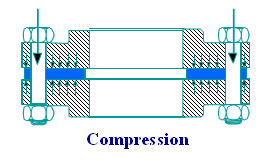 A seal is created by compressing the gasket material and causing it to flow into the imperfections of the sealing surface.
Surface Finishes (RMS)
Suggested Industry Standard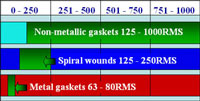 Gasket Rating Chart
For Standard ANSI Flanges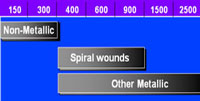 Review of 100 Gasket Failures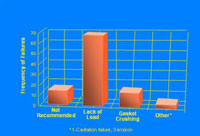 Correct Bolting Patterns
Product Quality
GarraSeal is manufactured to PT. Gapura Raya's specification requirements by American Packing Industries in the Philippines
Today, American Packing Industries is the leading manufacturer and supplier of compressed gasket, packings, metallic gaskets and other industrial products.
In 1998, achieved its ISO 9002 Certification from SGS Yarsley International Certification Services Ltd. and migrated to ISO9001:2000 in 2003, and currently certified under ISO 9001:2008.
PT. Gapura Raya's GarraSeal brand of products are manufactured to the highest international standards
Gaskets
Asbestos Gasketing Products
GarraSeal 90 Asbestos Gasket Sheet
GarraSeal 90 is an excellent general purpose gasket. It is a compressed Chrysotile (white) asbestos fibers with SBR binder, which is fully cured. It is coated with special anti-stick release agent to…
Non Asbestos Gasketing Products
GarraSeal 60 Carbon Fiber Gasket - Nitrile Binder
GarraSeal 60 is a high temperature non asbestos gasketing material manufactured from high grade carbon fibers which has been bonded with quality rubber. GarraSeal 60 is highly recommended for use in steam,…
GarraSeal 70 Homogenous Pure Graphite Sheet
GarraSeal 70 flexible graphite sheet is made from pure graphite without additives or binders. It is a superior replacement for asbestos gaskets. GarraSeal 70 is highly chemical resistant and thermally…
GarraSeal Gasket Summary Sheet
Gaskets
30 Non Asbestos
Gasket Sheet Nitrile Binder
60 Carbon Fiber
Gasket Nitrite Binder
70 Homogenous
Pure Graphite Sheet
75 Flexible Pure
Graphite Sheet with 316 SS Foil Insert
90 Asbestos
Gasket Sheet
95 Asbestos
Gasket Sheet with Wire Insert
Colour
Yellow
Grey
Black
Black Graphite
Blue
Blue
Type
Kevlar
Carbon
Graphite Sheet
Graphite with Wire
Asbestos
Asbestos with Wire
Thickness
1/32"
1/16"
1/8"
1/32"
1/16"
1/8"
1/32"
1/16"
1/8"

1/16"
1/8"
1/32"
1/16"
1/8"

1/16"
1/8"
Sheet Size
1.5mx1.5m
1.5mx1.5m
1.5mx1.5m
1.5mx1.5m
1.5mx1.5m
1.5mx1.5m
Binder
Nitrite
Nitrite
None
None
None
SBR Nitrite
Temperature
382ºC (720ºF)
+482ºC (900ºF)
500ºC (932ºF) in air;
650ºC (1,200ºF) in steam;
3,000ºC (5432ºF) in reducing
or inert media
"500ºC (932ºF) in air;
650ºC (1,200ºF) in steam;
3,000ºC (5432ºF) in reducing
or inert media
400ºC (752ºF)
540ºC (1000ºF)
Pressure, Max.
1,100 psi
2,200 psi
2,000 psi
2,000 psi
125 bar
(1,800 psi)
205 bar
(3,000 psi)
pH
-
-
0-14 (except strong oxidizers)
0-14 (except strong oxidizers)
-
-
Equivalent Garlock Code
3000
9800 / 9850
3125
3125SS / TC
900
1000

A seal is any object that is placed between two surfaces to prevent leakage. There are two basic type of industrial seals.
Gaskets : A gasket is used between two stationary objects
Packings : A packing is used between two moving objects
What is a Gasket?

A gasket is any deformable material that is used to create a static seal and maintain that seal under various operating conditions in a mechanical assembly.

Proper Selection

Temperature
Application
Media
Pressure
Size

Temperature

Maximum spikes
Thermal cycling
Continuous operating temperature (COT)
Minimum temperatures

Application

Flange information
Bolting information
Clamping force available
Compressive stress on the gasket
What is an Ideal Gasket
Shall be impervious to the fluid being handled
Must have sufficient chemical resistance to prevent impairment of its physical properties
Must not contaminate the system
Must not promote corrosion of the flanges with which it comes in contact
Must be capable of withstanding the required bolt pressure without crushing or undergoing excessive flow
Sufficiently deformable, able to distribute the applied pressure evenly over the surfaces, compensating for irregularities
Must be elastic enough to maintain an adequate portion of the applied load in the face of joint movement
Must develop sufficient friction in contact with the flange surface to resist excessive creep or extrusion
Must lend itself to easy installation and removal
Guidelines for Good Gasket Installation
Check surface finish and flatness.
Center the gasket on the flange.
Tighten bolts to compress gasket uniformly. This means use a crossing pattern and tighten in multiple steps.
Use a torque wrench, well-lubricated fasteners and hardened flat washers to ensure efficient bolt loading.
If possible, retorque 12 to 24 hours after the initial installation.
Never use grease-based anti-sticks or caulking compounds with the gaskets. Premature failure could occur as a result.
How Do I Choose My Gasket

Material Compatibility
Temperature and Pressure Resistance
Minimize Torque Loss
Price
Ask Your Friendly Gapura Raya Representative
Shopping: What is Available Out There

Rubber 200 - 400 deg F
Asbestos 800 deg F
Teflon 500 deg F
Aramid 700 deg F
Carbon 900 deg F
Graphite 1200 deg F

Flex - Metallic Gaskets

Spiral Wound Gaskets
Bonnet Gaskets
Ring Joint Gaskets
Metal Jacketed Gaskets (HE)
Serrated Gaskets
Kammprofiles
Metallic O-rings*

What is a Spiral Wound Gasket (SWG)

Alternately winding strips of metal and soft gasket filler
Reinforced by either an inner ring, an outer ring or both
CR > gasket with outer ring reinforcement
IR > gasket with inner ring reinforcement
CRI > gasket with inner & outer ring
BH > gasket without inner & outer ring

Why Use SWG

More Complete Temperature Range - Cryogenic to +2000 deg F
Wider Pressure Range - Vacuum to standard 2500 psi flange rating
More Flexible / Resilient than any other Metal Gasket
Can Be Used Against Virtually Any Corrosive Media

Merits of SWG Applications

Low Cost
Readily Available
Good Blow Out Resistance - High Pressure Rating
High Temperature Rating - Fire Safe
Time Proven

Demerits of SWG Applications

Inventory Problem
High Bolt Load is Required to Effect a Seal
High Degree of Flange Parallelism is Required
Proper Flange Finish is Critical
Can Damage Flange Finishing
Large Sizes are Fragile
Recovery is Typically Low
Where Do We Use SWG
Power Plant

Steam Feed Water Pipe
Feed Water Heater
Valve Bonnets
Autoclaves

Petrochemical

Catalytic Cracking Plant
Platformers
Heat Exchanger
Line Flanges
Valve Bodies

Marine

Boilers
Economisers
Main Steam Line
Air Ejectors

Nuclear Plants

Cooling Circuit Flanges
High Temperature Gas Lines
Pressure Vessels
Valves
Critical Information
OD of the Outer Ring / Filler
ID of the Inner Ring / Filler
Thickness
Material (Ring, Filler and Winding)
Flange Rating
Flange Standard (ASME, JIS, ANSI, DIN)
Quantity
Just In Case
A leaking gasket should not be merely replaced without questioning why it leaked
Save yourself future trouble by learning why a gasket leaks
Remove the gasket carefully and save it
Call your Gapura Raya representative who will check for possible clues to why the gasket leaked
Proper installation is key to gasket performance
Use thinnest gasket possible
Select right gasket for the job
PT. Gapura Raya can help install and maintain your gaskets
PT. Gapura Raya can trouble shoot why a gasket leaked
Choosing the right gasket will decrease down time, labor cost, fluid lost and product cost - let PT. Gapura Raya help you choose the right gasket