GarraSeal 95 Asbestos Gasket Sheet with Wire Insert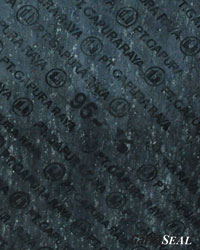 GarraSeal 95 is a white asbestos gasketing material inserted with wire. It is compounded with a heat resistant binder for high temperature applications of up to 538ºC (1,000ºF).
GarraSeal 95 has anti-stick releasing agent blended into the sheet surface to resist flange corrosion and allows for easy joint separation. It is tough, durable and extra strong with a typical tensile strength of 5,000 psi across the grain. It has sufficient compressibility to provide a properly gasketed joint and is resistant to plastic flow under heavy bolt loads.
GarraSeal 95 is suitable for service against hot oil, hot gases and high temperature, high pressure steam. It is excellent for heavy duty bolted joints such as water, steam pipe fittings, and manifold connections.
Color
:
Black
Binder
:
Nitrite
Temperature
:
540ºC (1000ºF)
Pressure, Max.
:
205 bar (3,000 psi)
Equivalent Garlock Code
:
1000
Equivalent Chesterton Code
:
281
Sheet Size
:
1.5m x 1.5m x 1/16"
1.5m x 1.5m x 1/8"