GarraSeal 60 Carbon Fiber Gasket - Nitrile Binder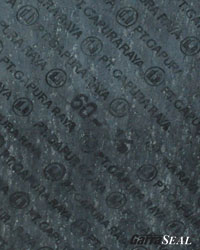 GarraSeal 60 is a high temperature non asbestos gasketing material manufactured from high grade carbon fibers which has been bonded with quality rubber.
GarraSeal 60 is highly recommended for use in steam, hydrocarbon, water, oils, fuels, alkalies, coolants, and gasolines. It has an anti stick parting agent on both sides.
Color
:
Grey Black
Binder
:
Nitrile
Temperature
:
+482ºC (900ºF)
Pressure
:
2,200 psi
Equivalent Garlock Code
:
9800 / 9850
Equivalent Chesterton Code
:
457
Sheet Size
:
1.5m x 1.5m x 1/32"
1.5m x 1.5m x 1/16"
1.5m x 1.5m x 1/8"