GarraSeal 90 Asbestos Gasket Sheet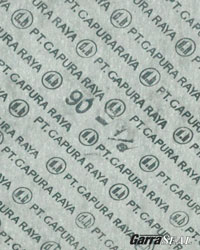 GarraSeal 90 is an excellent general purpose gasket. It is a compressed Chrysotile (white) asbestos fibers with SBR binder, which is fully cured. It is coated with special anti-stick release agent to eliminate the need for graphited sheet.
GarraSeal 90 is recommended for: steam, water, gas, salt solutions, some oils and most other services. It is used for pipe flanges, boiler manholes, gasket joints on steam engines, compressors, internal combustion engines, pumps and most other equipment.
It is not recommended for: extremely hot oil or strong mineral acids.
Color
:
Blue-grey
Binder
:
SBR
Temperature
:
400ºC (752ºF)
Pressure, Max.
:
125 bar (1,800 psi)
Equivalent Garlock Code
:
900
Equivalent Chesterton Code
:
210 / 211
Sheet Size
:
1.5m x 1.5m x 1/32"
1.5m x 1.5m x 1/16"
1.5m x 1.5m x 1/8"