GarraSeal 600 Carbon Fiber Packing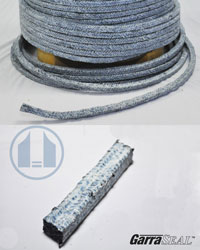 GarraSeal 600 is treated with PTFE to prevent color contamination and carbon migration. Each individual strand of the carbon yarn is impregnated with PTFE and high temperature lubricant to provide excellent break in qualities.
GarraSeal 600 is recommended for use in paper and pulp, hydrocarbon mixers, reactors, hydroelectric turbines.
Colour
:
Grey-Black
Temperature
:
345ºC (650ºF) in air;
650ºC (1,200ºF) in steam on non oxidizing atmosphere
pH
:
0 – 14
Shaft Speed
:
to 3000 fpm plus
Pressure
:
500 psi
Construction
:
Lattice Braid
Equivalent Garlock Code
:
98
Equivalent Chesterton Code
:
477-1
Size
Length per lbs
5/8"
3/8"
1/2"
129cm
355cm
208cm