GarraSeal 950 Asbestos Packing with Wire Insertion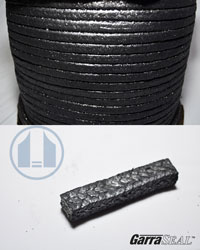 GarraSeal 950 has asbestos fibers and zinc/graphite powder core. The core itself is flexible and resilient, while the total packing offers lubricity, long shelf life and high corrosion resistance. High quality white asbestos yarn with wire reinforcement are braided over the square cross-section of this product.
This strong, thermally stable packing effectively seals many types of high pressure and temperature valves.
Colour
:
Black
Temperature
:
540°C (1,000°F)
pH
:
3 – 12
Pressure
:
4000 psi
Construction
:
Braid-over-core, wire reinforced

Equivalent Garlock Code
Equivalent Chesterton Code
Size
Length per lbs
127
stopped production
stopped production
none
stopped production
stopped production
5/8"
3/8"
1/2"
150cm
340cm
207cm