GarraSeal 970 Asbestos Packing, Graphite and Lubricated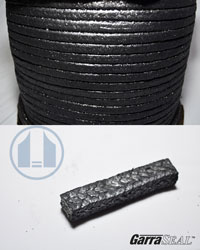 GarraSeal 970 is a square braid packing. Its white asbestos yarn is totally saturated with petrolatum and graphite lubricant. These lubricants, combined with the packing's softness, makes a packing that is particularly suited for aged equipment or equipment with worn bearing or scored shafts.
Common uses of GarraSeal 970 are for many types of valves in compressed air systems, refrigeration plant lines, fresh water piping, distillation units, feed heaters, exhaust steam, main air ejector drains, fuel oil lines, and centrifugal pumps handling cooling water, diesel and lubricating oil.
Colour
:
Black
Temperature
:
260°C (500°F)
pH
:
4 – 10
Shaft Speed
:
500 fpm
Pressure
:
300 psi (rotary/centrifugal)
Construction
:
Square Braid

Equivalent Garlock Code
Equivalent Chesterton Code
Size
Length per lbs
234
stopped production
stopped production
none
stopped production
stopped production
5/8"
3/8"
1/2"
114cm
315cm
243cm