GarraSeal 900 Teflon Impregnated Asbestos Packing - Lattice Braid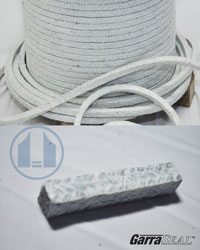 GarraSeal 900 is white asbestos which has been thoroughly impregnated with PTFE, braided into a lattice braid construction, and then given a final treatment with a special run-in lubricant.
GArraSeal 900 is suitable for many applications and can lower packing selection error. Diagonally cross-braid, GarraSeal 900 white asbestos yarn offers superior fluid resistance. It has good strength and minimum swell characteristics. The PTFE makes this packing chemically inert, resistant to water, acids and most media.
Typical applications include stern tube shafts, rudder posts, winches and elevators. It can also be used for bilge, fuel oil, circulating water and fresh water pumps. Also it can be used for valves handling air, water, oil and steam.
Colour
:
White
Temperature
:
260ºC (500ºF)
pH
:
3 – 11
Shaft Speed
:
1,400 fpm
Pressure
:
300 psi (rotary/centrifugal)
Construction
:
Lattice braid

Equivalent Garlock Code
Equivalent Chesterton Code
Size
Length per lbs
5862
stopped production
5862
none
stopped production
stopped production
5/8"
3/8"
1/2"
106cm
243cm
153cm